KLM, Emirates and Ethiopian Airlines
are offering an evacuation /repatriation flights from Nigeria.
Emirates
is now offering all its passengers free global cover for COVID-19 related costs. This free cover is for your health and quarantine costs if you're diagnosed with COVID-19 on your travels and this applies to all classes of tickets booked
BOOK EMIRATE REPATRIATION FLIGHTS NOW!
See below the locations and dates for these deals and note that terms and conditions apply.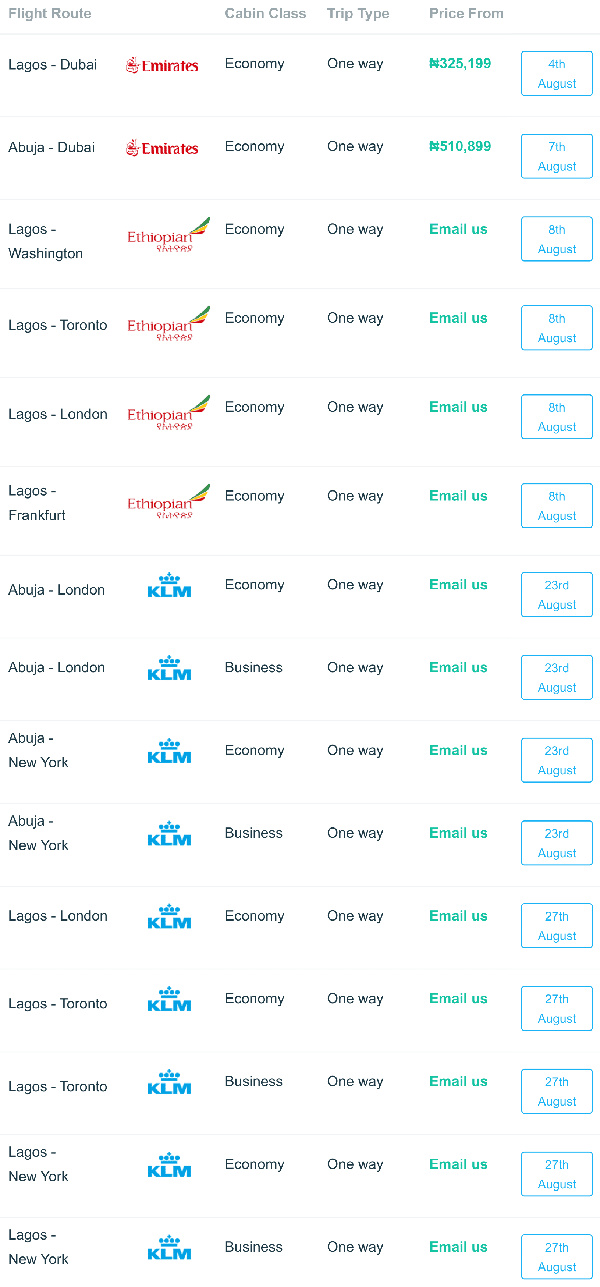 Terms and Conditions
Tickets are non-refundable AND one-way.
Change are not permitted for repatriation flights
Flights are only for Citizens and Permanent Residents of destination countries.
Any of the destinations must be your final destination.
These flights are not for visiting visas or with Nigerian passports.
This is a repatriation/evacuation flights
You will need a COVID-19 negative test to board this plane at least 96 hours before you board the plane from any of the government-approved laboratories.
Click here to see the list
We highly recommend that Passengers arrive 5 hours prior to departure for check-in, however not later than 4 hours before scheduled departure.
All passengers are expected to present required travel documents:
Confirmed Ticket
Valid Passport or UAE UAE residence permit
Confirmation of approval by GDRFA (General Directorate of Residency and Foreign Affairs) or ICA.
BOOK EMIRATE REPATRIATION FLIGHTS HERE!
To get a quote, please send your request and passport biodata page of the traveller immediately to
olayinkaoyelami@gmail.com
For more information, please call or WhatsApp: 0803 314 7891 Now!